Home | No Grow Australia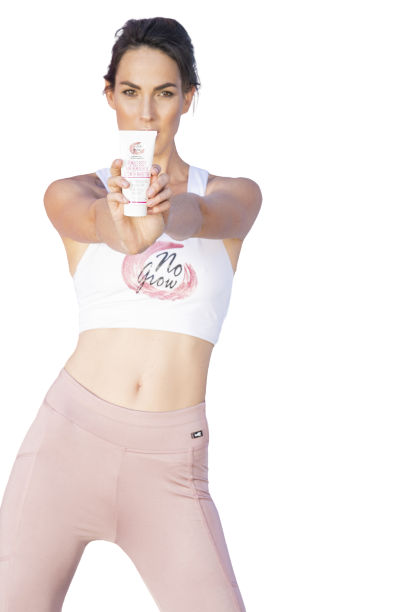 NO MORE WAXING OR SHAVING
GET THE SMOOTH HAIRLESS LOOK
GET RID OF UNWANTED HAIR!
✓ 1000'S OF HAPPY CUSTOMERS
✓ 100% NATURAL INGREDIENTS
✓ SCIENTIFICALLY PROVEN TO WORK!
✓ 100% PAINLESS, AT-HOME APPLICATION
✓ 100% RESULTS GUARANTEED
NO GROW IS A SIMPLE HAIR REMOVAL AND GROWTH INHIBITING CREAM THAT REDUCES & STOPS HAIR GROWTH, LEAVING YOUR SKIN SILKY SMOOTH.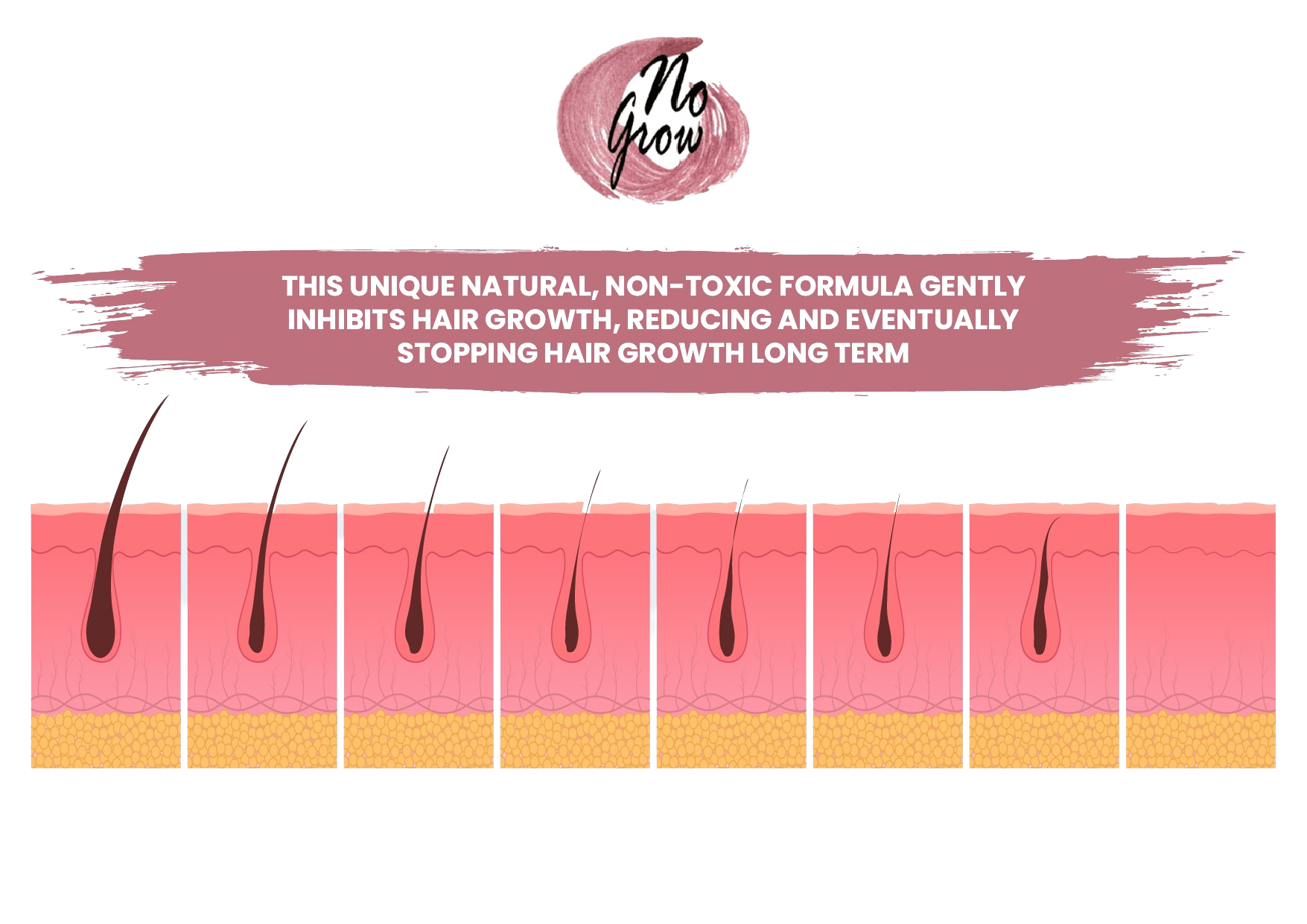 ✓ Made from all natural ingredients, No Grow is gentler on our skin.
✓ The science behind No Grow is proven to provide effective inhibition of hair growth.
✓ Simple, pain-free, at-home 'wipe-on-wipe-off' application.
✓ No Grow is suitable for all, men and women, all types of skin, hair, colour.
✓ No Grow is safe to use over body art without compromising the art.
HOW DOES NO GROW WORK?
WATCH THIS VIDEO
1000'S OF HAPPY CUSTOMERS ARE RAVING ABOUT NO GROW!
"After many failed attempts using alternative permanent hair removal systems at costly rates, I achieved permanent hair removal after using No Grow for a duration of 8 and a half months and the hair has never grown back"
"I started using this product three months ago due to covid -19 restricting us from making use of the salons. I am absolutely loving this product"
"I am a personal trainer someone that always takes pride in my appearance. I started using No Grow male body to remove my back hair, I started seeing results from the first month. I would highly recommend this product"
"Having had allergic reactions to most hair removal products on the market, I was fairly skeptical when I started using No grow female body on my legs. I used the product for nine months. Each month that passed the hair grew back finer and in patches before it stopped growing back completely. I now recommend this product to all my clients"
"Having gone through change of life, I had an influx of fine facial hair which could not be treated by IPL, as I was told IPL does not recognize hair without pigment, my skin was too thin for waxing. I started using No Grow Female facial and within seven and a half months of using the product the hair completely stopped growing"
"I started using No Grow intimate on my full pubic area when I just found out I was pregnant after confirming it was safe to use by my Gynae. By the time I got rushed in for my emergency c –section there was no hair that had to be removed. It has been four years and not one hair has grown back"
"Having been a model for seventeen years one of the leading problems I was constantly faced up against was being conscious about hair anyone on the body. I love this product!! It removes hair permanently with such ease and best of all in the comfort of your home"
"I bought No Grow female body for my legs and intimate for my underarms. I started seeing results from the very first week and even took pictures to document that this product DEFINITELY works"
"I am a 34-year-old male. My entire arm is tattooed and therefore I was told I am not a suitable candidate for IPL as it would strip the pigment in my tattoos. I then tried waxing besides the pain I had severe ingrown hairs and tried No Grow as last resort. Not only do I no longer have no hair on my arm but loved that I did not have to go into a salon. Would highly recommend this product to all the guys out there"
LOVE THIS PRODUCT! I have been blown away by this product. I have been using it on my legs to just over my knee and from about 6-months into the course I no longer needed to shave. My skin quality is also a lot smoother and just feels healthier. Love it and highly recommend it!
REPLACE YOUR HAIR WITH TREES!
We care deeply about the planet and creating a business that gives back to nature. That's why we're thrilled to share that we're partnering with One Tree Planted/@onetreeplanted to plant a tree for every tube sold.
Trees clean our air and water, create habitats for biodiversity, contribute to our health and wellbeing, and create jobs for social impact. We're honoured to have reforestation through One Tree Planted as an integral part of our business model.
NO GROW WORKS BETTER THAN ANY OTHER NON-INVASIVE SOLUTION IN THE MARKET!
Cons:
✓ Short term results.
✓ Affordable in the short-term but relatively more expensive over a lifetime.
✓ Have to do it often.
✓ Time consuming (the time can add up to a lot!)
✓ Can cause ingrown hairs.
✓ Can get razor burn.
Cons:
✓ Short term results; longer than shaving, but hair still grows back.
✓ Affordable in the short-term but relatively more expensive over a lifetime.
✓ Painful.
✓ Not easy to use.
✓ Highly time consuming.
✓ Can cause ingrown hairs.
✓ Can have an allergic reaction.
Pros:
✓ Instant results.
✓ Affordable.
✓ Easier to use than waxing or shaving.
Cons:
✓ Hair grows back, results are not long-term.
✓ Have to use it regularly.
✓ Can be harsh on the skin / can burn sensitive skin.
✓ Possible side effects from long-term use.
Pros:
✓ Long-term results.
✓ Less painful than waxing.
Cons:
✓ Relatively more expensive.
✓ Requires maintainance treatments.
✓ Not recommended for all skin types or hair colours.
✓ Not always successful.
✓ Potential side-effects from repeated treatments.
Pros:
✓ Longest-term hair removal solution.
✓ Not many side-effects.
✓ Medically recommended hair removal solution.
Cons:
✓ Highly expensive.
✓ Procedure must be done by a medical professional.
No Grow Hair Removal and Hair Growth Inhibitor
Pros:
✓ Longest-term at-home hair removal solution.
✓ Painless
✓ Relatively more affordable.
✓ Easy to use, wipe-on-wipe-off.
✓ Does not cause ingrown hairs.
✓ Allergen patch-test included in the tubes.
✓ Full refund for unused tubes if allergy detected.
✓ Results are guaranteed by the manufacturer.
Cons:
✓ Results are achieved over time. Requires your commitment to using the product as instructed.
✓ No Grow works well for 90% of our customers, meaning 10% of our customers do not get the effects they want. Results vary because of their genetic makeup and hormonal conditions. This is why we offer the No Grow Guarantee. If that fails then we offer your money back.
TRY NO GROW NOW!
SUBSCRIBE TO UNLOCK AN ADDITIONAL 5% OFF YOUR FIRST ORDER
Subscribe for special offers and updates.
By subscribing, you agree to receive email marketing
"CUSTOMER EXPERIENCE IS PARAMOUNT!"
"Excellent service, thank you"
"Love the live chat and the timely matter someone responded to me"
"Very thorough answers to my questions, ensured they were giving correct information 👏🏻 thanks 🙏🏻"
"Excellent customer service & my questions were answered quickly & promptly! Thank you"
"Great service! I am a first time customer with questions before I use it and I have had my concerns answered very promptly and professionally! Feeling great about your company so far!! First impressions 10/10"
"This was stellar customer service. And I didn't even have to seek it out. As soon as I got on the website there was someone asking me if I needed help. I am extremely impressed."
"____ did a good job of understanding my concerns. Her answers were concise. I am going to make a purchase soon, as a result of the chat."
"I was impressed by the quick response and the fact that it was a human rather than some automated response. My questions were answered well."